Nios Assignment FULL Details-tutor mark Assignment (Current Years)
www.growtheducationpoints.com
Nios Assignment FULL Details. About Tutor Mark Assignments (TMA) or Nios Assignment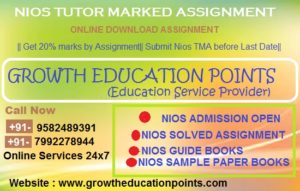 Nios Assignment FULL Details. In order to check the progress during the course of study, the learner should take up Tutor Marked Assignments (TMAs) seriously. The assignments would be a part of continuous internal assessment and also serve as an academic tool to prompt the learner to take part in the Personnel Contact Programmes (PCPs) and develop rapport between the learner and the tutors at the Study Centres. There is only one Assignment in each subject. The learner should submit the assignments response sheets on time. For more details, please see Chapter 5 and also the guidelines hosted on NIOS website.
Chapter 5
NIOS has developed several means and strategies to help learner to learn well and be 
successful.Tutor Marked Assignment (TMA) is one such Tool which plays a very important role
in the learning process under the Open and Distance Learning (ODL) System. TMAs help learners
to know his/her progress and attainment level and develop regular study habits. It also helps
in designing diagnostic and remedial teaching strategies during Personal Contact Programmes 
(PCPs).

The learner's Internal Assessment is done through one Tutor Marked Assignment in each subject.
The Assignments are supplied in a booklet form. The Subject Tutors at AIs correct the 
Assignments of learners and provide their feedback and suggestions for improvement.
The Assignments are uploaded on NIOS website from where learners can download them.
Internal Assessment (IA) in Secondary/Sr. Senior examination will carry 20% weightage of theory as continuous and comprehensive evaluation. These marks will be shown in the mark-sheet along with the marks of external examination which will carry 80% weightage in each subject. TMA is applicable for admission through Stream-Ionly. Assignments should be submitted before appearing in the Public Examination of the particular subject. Assignments will not accepted after passing the subject.
MOST IMPORTANT
20% weightage of theory is given to Internal Assessment. The public examination covers remaining 80% of weightage of theory. The result of those learners who do not submit the Assignments is declared on the basis of Public Examination.
Schedule of Submission of Assignments for appearing in Public Examination to be held in April/May
 April/May Examination 31st January
October/November Examination 31st July
Public Examination Submission of Assignments Feedback by the Teacher/
by the Learners to AI Facilitator to the Learners (Study Centre)
15th February
16th August
In case the last date so specified happens to be a Public holiday/Saturday /Sunday, the next working day will automatically be treated as the last date for the purpose.
 Note: In case a learner could not submit Tutor Marked Assignment on time at the Study Centre he/she may submit the Assignments alongwith late fee of Rs. 1500/- per subject after due date and after declaration of result till 15th July for April examination and till 15th January for October-November examination at concerned Regional Centre as per Appendix-B.
Table-11: List of Subjects for Tutor Marked Assignments (TMA) 
Secondary (10th class)

S. No. Subject Code Subject

  201 Hindi
 202 English
 203 Bengali
  204 Marathi
  205 Telugu
 206 Urdu
207 Gujarati
 208 Kannada
  209 Sanskrit
  210 Punjabi
  228 Assamese
  231 Nepali
  232 Malayalam
  233 Odia
 235 Arabic
  236 Persian
 237 Tamil
  211 Mathematics
 212 Science and Technology
 213 Social Science
  214 Economics
215 Business Studies
  216 Home Science
  222 Psychology
  223 Indian Culture and Heritage
  224 Accountancy
 225 Painting
 229 Data Entry Operation
  245 Veda Adhyan
  246 Sanskrit Vyakaran
  247 Bharatiya Darshan
 248 Sanskrit Sahitya

Secondary Level (12th class)
No. Subject Code Subject
301 Hindi
302 English
303 Bengali
304 Tamil
305 Odia
306 Urdu
309 Sanskrit
307 Gujarati
310 Punjabi
341 Arabic
342 Percian
311 Mathematics
312 Physics
313 Chemistry
314 Biology
315 History
316 Geography
317 Political Science
318 Economics
319 Business Studies
320 Accountancy
321 Home Science
328 Psychology
330 Computer Science
331 Sociology
332 Painting
333 Environmental Science
335 Mass Communication
336 Data Entry Operation
337 Tourism
338 Introduction to Law
339 Library and Information
Science
345 Veda Adhyan
346 Sanskrit Vyakaran
347 Bharatiya Darshan
348 Sanskrit Sahitya

NOTE

Do not pay any additional amount for submitting Assignment Response Sheet at Study Centre.

TMA is not applicable to learners seeking registration under the Streams II, III & IV.
Nios solved Assignment for class 10th &12th, class 2019-20 all courses
We provide online nios solved Assignment (Tutor marked Assignment) 2019-20 and 2020-2021 for April/October Exam. We have All subjects Solved TMA for 10th & 12th class and Ignou University (B.A, B.com, M.A, M.co & more subject) . If any problem regarding Assignment call me – 7992278944, 9582489391 or join whatsapp,
Download Online NIOS Solved Assignment (TMA) with Project Work (Included Question 6) E-Copy. Latest Assignment for April exam 2019, Assignment File download link will appear after payment instantly, also a download link will be delivered to your entered mail- id during payment process with purchase invoice.(Please typed email-id correctly).
Visit my website – Click Here
GROWTH EDUCATION POINTS
Mr.santosh Kumar
Helpline No -7992278944(24*7 helpline)
Working Location :-
New Delhi ||Uttar Pradesh | Madhya Pradesh | Bihar | Haryana | Karnataka | Uttarakhand | Maharashtra | Chhattisgarh | Punjab | Jammu & Kashmir |Jharkhand | Rajasthan | Himanchal Pradesh | Goa | Nepal | GUJRAT|| ODISHA|| TAMILNADU|| KERELA|| ANDHRA PRADESH||