Scanned Copy Of Home Science (216) Handwritten (Solved) Assignment For April Exam 2023
www.growtheducationpoints.com
 Scanned Copy Of Home Science (216) Handwritten (Solved) Assignment For April Exam 2023
We Provide Class 10th  Scanned Copy Of Home Science (216) Handwritten (Solved) Assignment For April Exam 2023 Assignment Solutions with Project work. This TMA file is ready Made. You do not have to write again as it is a handwritten scanned copy. If you want to write on your own handwriting again then it is your choice. After purchasing you have to upload it on Nios Dashboard itself. Remember student, There is no assignment of vocational subjects. Contact Us @9582489391 or WhatsApp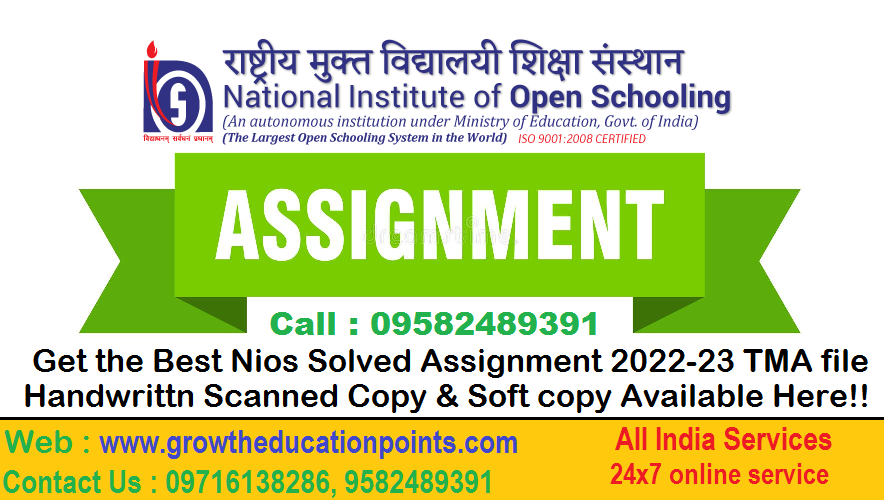 How do I submit TMA assignments online?
After Student Login, From the student dashboard, click on download/ upload TMA. Select the subject which you want to upload TMA and Select the medium/ language in which you have prepared TMA to upload. Select the correct PDF and click on submit button to upload the TMA.
What are the TMA Marks in NIOS?
Internal Assessment (IA) including Tutor Marked Assessment (TMA) in Secondary and Senior Secondary examinations were given 20% weightage in External. The test and marks are shown separately and added to the marks obtained in the external theory test and practical (where applicable).
What happens if I do not submit the TMA File ?
If the assignment is not submitted on time in the column for Marks of TMA then absent is marked in the mark sheet. You have to score maximum marks to pass. Without TMA Marks your passing average will be very low. Therefore it should be given significant attention.
What is the last date of TMA submission NIOS 2023?
The last date for submission of TMA by learners through online is 31 January 2023 without late fee.
What is Nios TMA Late Fee?
TMA late fee is Rs 1500/- per subject. Rs. 50/- will be charged for each transaction. You have to submit the TMA hard copy at the regional center along with the late fee payment receipt.
What is TMA in Nios?
Tutor Marked Assignments (TMA) is one such means TMA helps in developing regular study habits in students and give students practice in writing responses to questions thereby having a kind of rehearsal in the preparation for the final examination.
Where can I find the Best Solved Assignments?
If you are Searching for 10th/12th class Nios solved Assignment handwritten Scanned Copy ? So you are in the right place because here all subjects are available for Nios Solved Assignment Handwritten Scanned Copy 2022-23. We will provide all Nios Solved Assignment Soft copy for all courses. call us : 9582489391 or whatsApp. Get the Best NIOS TMA solution. Get 100% quality assured answers which gives Best marks. If you want to score 95%+ marks in assignment then just order assignment solution from here.
विश्वसनीय संस्थान (Growth Education Points) के कुशल मार्गदर्शकों के सानिध्य में तैयार की गई Nios Assignment Solutions (Session 2022-23) का निर्माण किया गया है। पूर्व वर्ष में हजारों विद्यार्थी यहाँ के TMA File को submit करके अधिकतम अंक प्राप्ति कर NIOS एग्जाम को पास किया हैं। आप सभी जिज्ञासु छात्र व छात्रा अवश्य ही इस प्रभावी TMA Answer को लिखे जिससे आपको श्त-प्रतिशत अंक प्राप्त हो। इस प्रारूप को तैयार करने में सभी कुशल शिक्षकों का उद्देश्य है कि बच्चे अच्छे उत्तर (Best Answer) को लिख करके अधिकतम अंको के साथ सफलता को प्राप्त कर सके।
Why You Should Take NIOS Handwritten Solved Assignments ?
You are a working professional and don't get enough time to write the assignment, as you may have a lot of work to do.
You are a full-time housewife and couldn't get time for writing assignments, as you may have a lot of chores or family stuff to do or small children to take care of.
Maybe you are a student who is pursuing two or more courses at the same time.
Any other emergency/case from which you can't pull yourself out and you don't have enough time to write the assignment yourself.
For any Query Call or SMS us…
Mr. Santosh kumar
Growth Education points
Contact No- 09582489391, 07992278944
Visit my Blogs: https://onlinesolvedassignments.blogspot.com