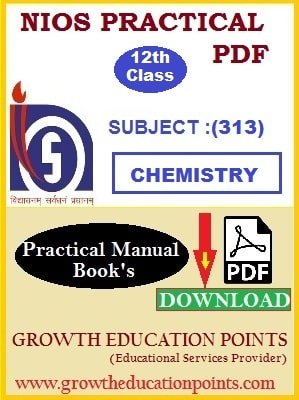 Nios Chemistry (313) Practical File PDF (Hindi Medium)
Description
Nios Chemistry (313) Practical File PDF (Hindi Medium)
Dear Nios Students now you can download Nios Chemistry (313) Practical File from our website. This PDF file will help you for preparing Practical File. Through this practical File you can gain Excellent Marks. This practical file contains many types of experiment which is related to your syllabus. you have to write at-least 5 or more experiment. And this file will submit on the day of your practical exam at your practical exam center.
---
Get Best Nios Solved Assignments with Project Work.
You Can Get Nios solved Assignment within 5 minutes anywhere in the World. Based on New Syllabus and Question Pattern with full Answers with project works. it is pdf format. we send by whatsapp/email. for more info : 9582489391 or whatsapp or visit my website : Click Here
DOWNLOAD NIOS ASSIGNMENT ANSWER SHEET CLICK HERE
How to Make NIOS Assignment File : 
Use only one sided lined project paper page.
do not write in white blank page . avoid it
use only black and blue ball point pen
write the answer clearly that will appear good in the sight of teacher.
Avoid zig-zag writing.
Must compile First alluring page (i.e. colorful and  attractive)
Use sticher device (which helps Not blow your page)
Useful Information for Nios Students:
If you are looking for Nios Admission Help, Nios solved Assignment & Ignou solved Assignment, . Nios practical pdf. Nios Guide books, Nios Sample paper books, Nios Top-20+ guide books and Ignou guide books. All these are available in Guide Books in our website in very nominal charge. You can also order "The Open publication book" for every subject from this website.
We Provide Also Online Services Like :
Online admission, Paying Examination fee online, Change Subject, Add subjects, change permanent address, change correspondence address, change gender, change board, Add mobile number, Name correction, Father name correction, mother name correction, Date of birth correction and other correction. Please Contact Us -95824898391
CONTACT US NIOS ADMISSION FOR CLASS 10TH & 12TH  – Order Now
Mr. Santosh Kumar
Phone No-9582489391, 7992278944
(Also available On whats-app)
IF YOU WANT ALSO NIOS ASSIGNMENT ANSWER SHEET CLICK HERE
CONTACT US FOR NIOS HANDWRITTEN ASSIGNMENT FILE – Order Now
Mr. Santosh Kumar
Phone No-9582489391, 7992278944
(Also available On whatsapp)
---
Only logged in customers who have purchased this product may leave a review.