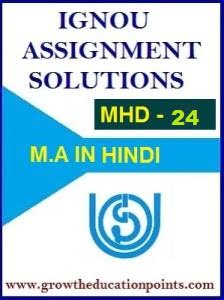 MHD-24 मध्यकालीन कविता-2 IGNOU SOLVED ASSIGNMENT 2020-21
Description
M.A Hindi (MHD) Second year solved assignment for IGNOU students. It is compulsory to submit a assignment for the students of Ignou university.We provide IGNOU MHD-24 मध्यकालीन कविता-02 solved assignment in HINDI Medium. Now you can Get All types of Ignou solved assignment at minimum cost .
Last date of Ignou Assignment Submission
The completed assignment should be sent to the Coordinator of the Study Center allotted to you by 31st March
2021 (if enrolled in the July 2020 Session) and 30th Sept, 2021 (if enrolled in the January 2021 session).
---
HOW TO DOWNLOAD MHD-24 मध्यकालीन कविता-02 IGNOU SOLVED ASSIGNMENT
 FROM OUR WEBSITE :
Go to Ignou Assignment Solutions category
 Select your subject code or choose multiple subjects by clicking add to cart button given on every assignment page.
Fill contact details i.e. Name, Address, email ID, Mobile number etc. (It is mandatory and we respect privacy and your data is absolutely safe with us)
Complete the checkout process by choosing payment options i.e. | Razor-Pay | Instamojo (by Credit Card | Debit Card | Internet banking) (We are fully secured SSL enabled website)
After successful order, PDF copy of Assignment will be deliver to you on email or  WhatsApp.
Assignments are for help and reference purpose only.
Please get in touch with us for order. We are a group of professional willing to help professional students, who generally fighting with time to prepare for further studies.
We want to inform all students that if you fail to submit your required assignment within a given time duration then you will be not permitted to attend the upcoming Term End Examination conducted by IGNOU. The assignments have a 30% weighted in your grade card while Theory and Practical examination has 70% weighted.
We Provide Also Online Services Like : Online admission, Paying Examination fee online, Nios solved assignment, Nios handwritten solved assignment, tutor marked assignment, Ignou solved assignment for all subjects, Ignou Handwritten Solved Assignment,  Please Contact Us for More Information -95824898391 or whatApp