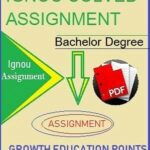 (BHDE-106) IGNOU SOLVED ASSIGNMENT IN HINDI MEDIUM 2019-20
Description
(BHDE-106) IGNOU SOLVED ASSIGNMENT IN HINDI MEDIUM
It is compulsory to submit a assignment for the students' B.A, B.com, BDP course of Ignou university . We are giving you here the Solved Assignment File in PDF Format.
As per university guidelines, the theory exam consists 70% weightage and assignment work consists 30% weightage. Students need to submit IGNOU Solved Assignments   before last date at their study center. 
How to Download Assignment from our website….
Choose your subject, subject code & Medium.
• Click to "ADD TO CARD" then press continue
• Check out from Blue Bag
• Fill your order form and then complete payment
• You will receive confirmation message in email and also a download link will be received to your entered Email- id during payment process. (Enter Email-id correctly).
• Click to downloadable link for your assignment , get Assignment in pdf.
Please get in touch with us for order. We are a group of professional willing to help professional students, who generally fighting with time to prepare for further studies
Any quires for call us-9582489391, 7992278944 or ( join whatsapp)
Email id- grotheducationpoints@gmail.com
---
Only logged in customers who have purchased this product may leave a review.