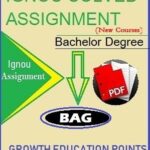 BHIC-132 IGNOU SOLVED ASSIGNMENT 2019-20 (HINDI MEDIUM)
Description
BHIC-132 IGNOU SOLVED ASSIGNMENT 2019-20 (HINDI MEDIUM)
It is compulsory to submit a assignment for the students' B.A, B.com, BDP course of Ignou university . We are giving you here the Solved Assignment File in PDF Format.
Submission
For July 2019 session, you need to submit the assignments by March 31, 2020, and for January 2020 session by September 30, 2020 for being eligible to appear in the term end examination. Assignments should be submitted to the Coordinator of your Study Center. Obtain a receipt from the Study Center towards submission.
How to Download Assignment from our website….
Choose your subject, subject code & Medium.
• Click to "ADD TO CARD" then press continue
• Check out from Blue Bag
• Fill your order form and then complete payment
• You will receive confirmation message in email and also a download link will be received to your entered Email- id during payment process. (Enter Email-id correctly).
• Click to downloadable link for your assignment , get Assignment in pdf.
Please get in touch with us for order. We are a group of professional willing to help professional students, who generally fighting with time to prepare for further studies.Any quires for call us-09582489391, 7992278944 or ( join whats app) 
---
Only logged in customers who have purchased this product may leave a review.